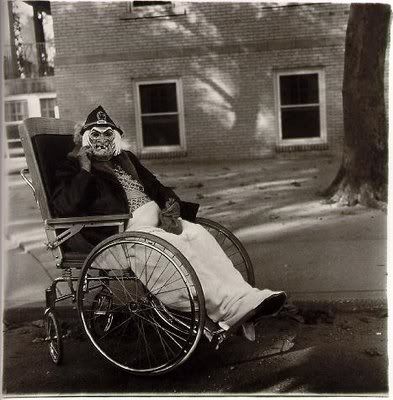 Children are a joy; I've always
Loved their unabashed smiles,
Enthusiasm for life.
Honest, inquisitive, sprightly,
Refreshing.
Destiny never gave me
A child
Nor a wife.
Instead she gave me eyes
And the knowledge; wisdom
Only loneliness can bestow.

I sit here with useless, arthritic legs;
Sit here in this chair, this
Mobile substitute.
The leaves fall, the corridors
Hum with anticipation of visitors.
For others.
The first holiday comes.
Our 'home' will be visited
By a group of small children
Dressed as vampires, princesses,
And the occasional astronaut.

I hold my butterscotch candies anxiously
In my lap, mangled legs covered.
My own costume, a witch mask
With grassy hair
Sunken eyes
And a vicious, gap-toothed leer,
Wasn't my choice
Though, seems a fitting commentary.
I sit in dappled sunlight, crisp air
With the others,
butterflies pummeling my stomach.
The children never come.